copyright 1996,2002 D. Glenn Arthur Jr.
photo by Ted Beatie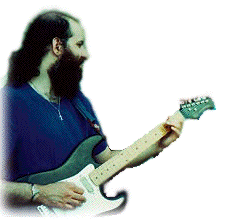 (as it says on my business card....)
D. Glenn Arthur Jr.
Guitarist
Weddings/Funerals/Orgies
Lessons
I'm a musician living near Washington D.C. I play in a handful of different established groups and pickup bands, and occasionally even play solo. I play for community theatre, I'm available for put-a-group-together-in-a-hurry-for-one-gig projects (and have a list of other musicians I can call if I'm the one who needs to put the band together), and I give introductory-level lessons. While my main instrument is guitar, which I've been playing since 1980, that's not all I do well.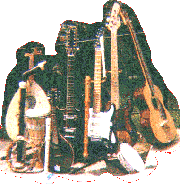 I play guitar (folk 6-string, 12-string, and electric), bass guitar (electric and acoustic), mandolin, recorder (sopranino through bass), oud, and a little percussion. (In one band I play percussion and bass at the same time.) Pretty soon I'll be up to speed on the bowed psaltery as well. I play a few other instruments too, when I can borrow them (such as krummhorn, cornamuse, bouzouki).
I am available for studio work.
Though my musical tastes were shaped by listening to "classic rock", I've been playing early music (pre-Bach) a lot the past few years and enjoying it immensely.
The musical styles I play include classic rock, Celtic dance (think Scottish dancing), medieval and renaissance dance, Eastern dance (think "belly dance"), blues, folk, "filk", Celtic rock, and my own songs. Those are the ones I'm already comfortable with, but I'm always interested in learning more (I'd love to learn Klezmer), and if you've got a written part for me (treble or bass clef) I can probably learn it. I also enjoy creating new sounds by combining aspects of different genres.
I give lessons on guitar and recorder.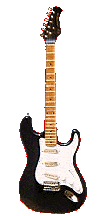 The established groups I play for are:
Thrir Venstri Foetr / Playford Spice (medieval, renaissance, and English Country dance music, with and without dancers), on double-bass, guitar, recorder, and occasionally oud and capped reeds.
The Homespun Ceilidh Band (traditional Celtic music) on guitars. Our first CD, Spinning Reels is now available!
The Beltway Early Music Band (medieval) on guitar, recorders, capped reeds (krummhorn and cornamuse), oud, ashiko, frame drum, and bowed psaltery.
MAD, music and drama club for employees of NASA's Goddard Space Flight Center in Greenbelt, Maryland, where I play bass guitar in musicals (as a "guest performer", since I'm neither an employee nor contractor for NASA). I've not participated in the last few shows, but I hope to do so again soon.
Wild Oats (classic rock, Celtic rock, folk rock) where I mostly played bass guitar and drums with a little lead & rhythm guitar, has a CD, "A Few Brief Shining Moments" (which you can order from this web site).
I sat in on oud with Rahks Baladi sometimes, though I'm not actually a member. I don't know whether they're still performing as a group.
In theatre, I play bass guitar for musicals. I've done Little Shop of Horrors, Pippin, Guys and Dolls, and Singin' in the Rain with MAD in Greenbelt, Maryland; A Funny Thing Happened on the Way to the Forum, Bye Bye Birdie, and The Sound of Music with a community theatre group called CAST in McLean, Virginia; and Something's Afoot with Potomac Community Theater in Potomac, MD. In addition to the musicals, I provided background music and sound effects (along with one other musician) for a production of Oedipus the King at Cedar Lane Stage in Maryland, using cymbals, chimes, mandolin, electric guitar, and bass recorder. (The other musician, Felicia Eberling, used recorders, viola da gamba, woodblock, and a variety of drums.) I am currently (April 1999) doing something similar for their production of Antony and Cleopatra.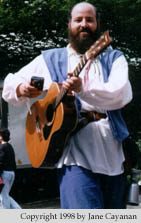 I've organized pickup bands for Regency-period dances at Darkover conventions, and I've performed solo and with a band at other science fiction conventions. I frequently play for SCA and Markland medieval events. I have also presented a workshop on ensemble playing at a music convention and have participated in panel discussions of early music at two conventions.
And about what it says on my card ... Yes, I have performed at all three catagories of events. Unfortunately the funeral was for a very close friend (we were not lovers but I loved her -- there's no good word in English to describe our relationship). And yes, I am available for hire to play at weddings, funerals, and orgies, as well as whatever other events come up that could be improved by the presence of live music. (In my opinion, any event is better with appropriate live music!)
To contact me concerning lessons or bookings:
Email -- dglenn@panix.com
Phone -- (240) 401-3825
Mail -- 1723 W. Lombard St. / Baltimore, MD / 21223


(* D. Glenn Arthur Jr. * What's new on my pages * Map Of My Web Pages * My main page * Musings and observations * About me * Me the musician * Writings * Events * Humour *)